"King of the Crimps", James "Shanghai" Kelly was not, as you might have thought, a world renowned hairdresser or Vegas high roller but a notorious criminal in 19th century San Francisco. Crimping, or shanghaiing, was the practice of kidnapping men and forcing them to work on ships, and Kelly was the undisputed master of the art.
He was, as described by Herbert Asbury in his excellent "The Barbary Coast – An Informal History of the San Francisco Underworld", a "short, thick-set Irishman, with flaming red hair, a bristling red beard, and an irascible disposition".  Seduced, like many of his contemporaries, by the prospect of great wealth as a result of the 1848 Gold Rush in California, he fled to San Francisco where he immediately established a three-storey sailors' boardinghouse at 33 Pacific Street, between Drum and Davis Streets, in the heart of the area known as the Barbary Coast.  However, this was essentially a "front" for his unscrupulous but lucrative business of supplying sea captains with men to fill boats rendered increasingly empty by the desertion inland of prospective crew members to seek their fortune.
Kelly satisfied the ship captains' need by arranging for runners to row out to arriving ships and offer free drink and other inducements to frequent his  boardinghouse and saloons. Once there, the unsuspecting sailors would be drugged with the "Miss Piggott Special", his own cocktail of schnapps and beer spiked with opium, laudanum or chloral hydrate. The "Shanghai smoke", a cigar heavily laced with opium, would follow, and that lethal combination failed to render them unconscious then they would be hit on the head" As one historian put it: "the tools of his trade were knock-out drops and a blackjack".
Once divested of their belongings – including their clothes – they were wrapped in a blanket, lowered through one of three trapdoors in the front of the bar and rowed out to a waiting vessel. The captain paid the crimp the agreed fee, hauled anchor, and set sail. When the sailors regained consciousness, they were well out to sea – heading to such faraway destinations as Shanghai.
His pre-eminence in the crimping game was most dramatically illustrated in what has become known as his "birthday party" escapade.  With his boardinghouse uncharacterstically short of guests, he was commissioned by one desperate sea captain to find 100 sailors urgently. The ever-resourceful Kelly quickly came up with a plan. Chartering a decrepit old paddlewheel steamer, the Goliah, he put the word out on the streets that it was his birthday and everyone was invited aboard to celebrate with free food and drink.
Ninety men showed up and the Goliah put out to sea "amid great merriment of drinking, eating, and song". As it left dock, Kelly proposed a toast: "to all my faithful friends, you've made me what I am today (heh-heh).  Now down the hatch". As soon as all the drugged guests had passed out, Kelly ferried them to the infamous New York based sailing ship, the Reefer, and two other vessels anchored off the Heads, just outside the Golden Gate. The still unconscious "sailors" were handed over to their new captains, who sailed away.
Mindful that questions were sure to be asked when he returned with an empty Goliah, Kelly sailed down the California coast to ponder his next move – and struck lucky.  Encountering the Yankee Blade off Point Concepcion, west of Santa Barbara, that had run aground and was taking on water, he saved its whole crew and sailed them up to the Market Street Wharf where, unaware of the true story, the citizens of San Francisco proclaimed him a hero.
Some chroniclers of the Barbary Coast have shed doubt over the accuracy of this story but, nonetheless, it lives on in San Francisco legend. In fact, it was featured in an episode of the long-running TV show, Death Valley Days, narrated by Robert Taylor, in 1967. Kelly's place in the city's mythology was reinforced in 1985 by the opening of an old-time saloon named after him at Polk between Pacific and Broadway on Nob Hill.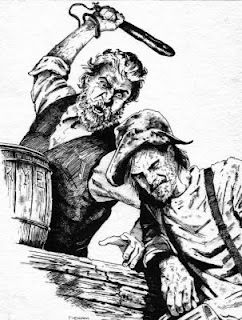 His crimping days were over when he himself was shanghaied and ended up jumping ship in Peru, although the message that got back to his adopted city was that he had been shot by one of his former runners.
I am indebted to Gail MacGowan's article on Kelly on www.sfcityguides.org which, in turn, is based upon works by Charles F. Adams, Herbert Asbury, Samuel Dickson and Bill Pickelhaupt.